Graduate Medical School Admissions Test
GAMSAT is developed by the Australian Council for Educational Research (ACER) in conjunction with the Consortium of Graduate Medical Schools to assist in the selection of students to participate in the graduate-entry programs in Australia, Ireland and the UK. It is designed to assess the capacity to undertake high-level intellectual studies in the medical and health professional programs.
The GAMSAT test is offered twice a year, in March and September.
Register
Registrations for GAMSAT September are now open
Download the GAMSAT Information Booklet 2018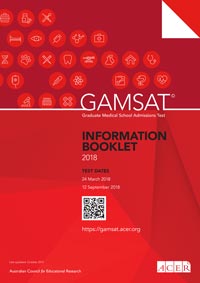 Sit
The next GAMSAT will be held on Wednesday 12 September 2018.